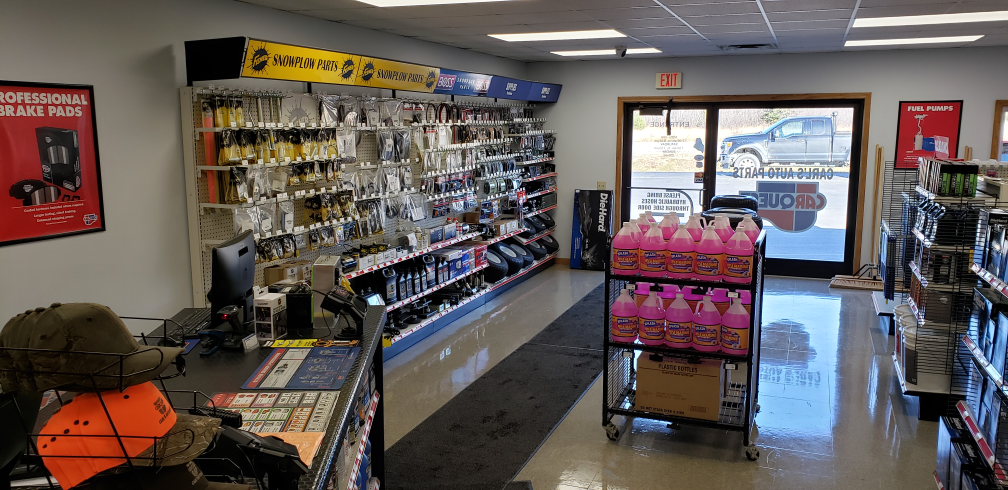 Business Hours
| | |
| --- | --- |
| Monday | 7:00am - 5:00pm |
| Tuesday | 7:00am - 5:00pm |
| Wednesday | 7:00am - 5:00pm |
| Thursday | 7:00am - 5:00pm |
| Friday | 7:00am - 5:00pm |
| Saturday | 8:00am - 12:00pm |
| Sunday | CLOSED |
At Carl's Auto Parts, we offer our customers a vast array of parts choices to keep their cars, trucks, commercial trucks and heavy equipment on the road. We also offer a number of services including: paint mixing, snow plow installation, and custom hydraulic and air conditioning hose assemblies. So come on in and let us help you finish your project!
Snow Plow Installation



Carl's Auto Parts is your local source for Boss and Fisher Plows, we also provide installation services. We can also source parts for most brands of plows.
We Build Custom Hoses



Carl's Auto Parts can make custom hydraulic hoses for your commercial trucks and heavy equipment or plow, or new air conditioning hoses for your ride.
Color Mixing



At Carl's Auto Parts, we can mix the perfect paint color for a frash paint job, a new color for your custom ride, or auto-body repair or touch up work.
Equipment For Sale
Carl's Auto Parts sells various types of equipment from our lot. Our vendors include CargoPro, SnoPro, Stealth, H & H, Load Trail, BOSS and Fisher. We maintain a limited and fluctuating stock of trailers and other equipment. So call us or stop in, we'll be happy to assist you in finding a solution to your trailer or plowing needs.
Quality Parts from Carquest
Carl's Auto Parts offer the full line of OEM parts in the Carquest Premium lineup and all manufacturing brands carried by Carquest and Advance Auto Parts. No matter what you need for your car or truck. When a repair need arises, remember that Carl's Auto Parts can get the parts you need to keep your vehicle on the road safe, and performing like new! Browse for the parts you need from the links below, order online, give us a call or just stop into our store - you'll be glad you did, and so will your vehicle!
Product Lines
Carl's Auto Parts carries numerous product lines for you automotive, commercial trucks, and heavy equipment - we're more than just an indepentantly owned Carquest dealer. Visit our Product page to see our entire lineup.